What We are Calling For? 
The summer has been particularly hot and difficult this year, and one of the main reasons for this is the rise in global temperatures brought about by the growing greenhouse effect. The global call is to reduce carbon emissions in order to reduce/balance greenhouse gas emissions. In other words, the world is calling for carbon neutrality or even zero carbon.
Carbon Neutral vs. Carbon Free: What is the difference?
The main difference between carbon neutral and carbon-free is the presence or absence of carbon emissions. Carbon neutrality is a balance in which carbon emissions are equal to carbon reductions, so that, overall, zero carbon enters the atmosphere. Carbon-free, on the other hand, means that no carbon emissions are produced in the first place.
Being carbon neutral means balancing greenhouse gas emissions (GHG) by 'offsetting' or removing an equivalent amount of carbon from the atmosphere.
In contrast to carbon neutrality, becoming carbon-free means directly reducing emissions to zero. For example, if a country or company is carbon-free, all energy and electricity come from renewable sources, such as wind or solar power.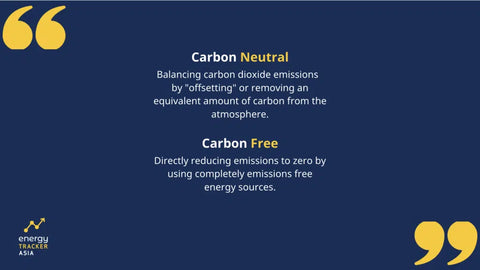 Why was this call launched?
In 2015, 196 countries adopted the Paris Agreement, which calls for keeping global temperatures at 1.5 degrees Celsius above pre-industrial levels. However, if we continue to pump out emissions that contribute to climate change, temperatures will continue to rise well beyond the 1.5 level, threatening the lives and livelihoods of people everywhere.
This will not only affect a few countries but will actually have a global impact, which concerns every person on the planet.
What can we do?
The impact of going beyond carbon neutrality and becoming carbon-free countries and businesses is far greater. They are reducing global emissions and contributing to international climate action efforts to sustain the 1.5-to-2-degree Celsius rise in global temperatures caused by climate change. They are doing this by planting trees and using more clean or renewable electricity. Ultimately, all businesses and countries must transition to a carbon-free world if we want to reduce and eliminate the effects of climate change.
As for us, the efforts we can make as ordinary people to reduce our carbon emissions should start with the small details of our lives. For example, we should try to use recyclable/biodegradable materials in our daily lives and use non-oil burning public transport or electric transport when commuting to and from work. For example, electric cars, electric bicycles, electric scooters, etc.
Sometimes, one person's effort is small. But if all of us, all of us, do it, the impact can be significant. Not to mention, with rising fuel prices, using public transport and electric mobility products is actually saving us money. It's a win-win deal.