Specifications
| | |
| --- | --- |
| Product model |  Windgoo B20 |
Basic Information
| | |
| --- | --- |
| Expand Size |  1200*510*950mm |
| Folded size |  680*370*550mm |
| Weight |  17.5kg/38lb |
| Color |  Black |
Battery
| | |
| --- | --- |
| Battery |  36V/6.0Ah lithium battery |
| Charger voltage |  42V 1.5A |
| Charging port |  DC 2.1 |
| Charging time |  4~5h hours full charge |
Tyres
| | |
| --- | --- |
| Tyre size |  14 X 1.95 inch |
| Tyre properties |  Rubber Pneumatic Tire |
Displays
| | |
| --- | --- |
| Properties |  LCD Simple power display |
| Function |  Battery indicator |
Start-up method
| | |
| --- | --- |
| Riding modes |  Pure electric start/pedal power |
| Cruise control |  6km/h, 15km/h, 25km/h, three-speed cruise control function |
Performance
Motor
 250W 

Brushless motor

Max Speed
 25km/h
Electric power range

 22-25 km ( full power mode )

Max load

 120kg/264lb

Climbing
 15°
Waterproof rating
 IPX4
Foldability
 Compact foldable / 15 seconds to fold
Safety features
| | |
| --- | --- |
| Braking system |  Double disc brakes front and rear, mechanical brakes |
| Light | Front LED headlights, rear LED tail lights with reflector |
Description
Specifications
| | |
| --- | --- |
| Product model |  Windgoo B20 |
Basic Information
| | |
| --- | --- |
| Expand Size |  1200*510*950mm |
| Folded size |  680*370*550mm |
| Weight |  17.5kg/38lb |
| Color |  Black |
Battery
| | |
| --- | --- |
| Battery |  36V/6.0Ah lithium battery |
| Charger voltage |  42V 1.5A |
| Charging port |  DC 2.1 |
| Charging time |  4~5h hours full charge |
Tyres
| | |
| --- | --- |
| Tyre size |  14 X 1.95 inch |
| Tyre properties |  Rubber Pneumatic Tire |
Displays
| | |
| --- | --- |
| Properties |  LCD Simple power display |
| Function |  Battery indicator |
Start-up method
| | |
| --- | --- |
| Riding modes |  Pure electric start/pedal power |
| Cruise control |  6km/h, 15km/h, 25km/h, three-speed cruise control function |
Performance
Motor
 250W 

Brushless motor

Max Speed
 25km/h
Electric power range

 22-25 km ( full power mode )

Max load

 120kg/264lb

Climbing
 15°
Waterproof rating
 IPX4
Foldability
 Compact foldable / 15 seconds to fold
Safety features
| | |
| --- | --- |
| Braking system |  Double disc brakes front and rear, mechanical brakes |
| Light | Front LED headlights, rear LED tail lights with reflector |
Compact Folding E-bike
The Windgoo B20 Compact weighs just 17.5kg and its 10 second folding time makes it simple to pack down.
Smooth Ride
This stylish bike features a 250W high speed motor, 3 power-assisted levels that will give you that extra boost when you need it. From the push of a button, you can switch from manual pedalling to pedal assisted riding.
Young & Relaxed
The value-for-money price allows every young person to afford it without pressure. Our starting point is to save money and be practical.The lightweight and foldable design can better improve your mode of transportation, and you don't need to buy extra tickets for it.
Windgoo B20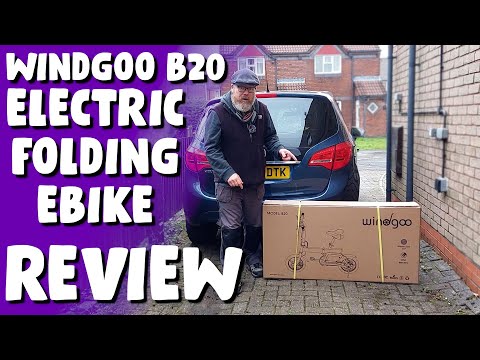 The battery of this bike is too weak. Add a bit more money and buy a proper e-bike.
After 2 months I bought this bike the battery is dying every day more and more.Before I used to do 11-12 miles with a single charge now 7-8. The bike has speed limiter as well it cannot go more than 25 km/h even if you assist with pedals. Specially when the battery is died is to hard to use the pedals.
Electric bike 6mths old
Battery good for 10 kilo that's it push it home Pogo
Says send on video that's
there answer to everything.
6MONTHS OLD JOKE.
Good bike for the price but....
The bike is running good the only problem i have is the chain broke in second day i use 😪 the battery is 9/10 is good , and i receive different dashbord buttons , battery screen . Is not like in the description and a bit of damange wher you fit the seat . But the bike is running good and is worth for the price.
Nicely built folding electric bike
Nice little bike which comes with built in lights & break lights & cruise control.
Windgoo B20 Electric Bike