Specifications
| | |
| --- | --- |
| Product model |  Windgoo M12 |
Basic Information
Expand Size
1060*505*1150mm
Folded size
1060*505*480mm
Weight
15.8kg/34.83

lb

Color
charcoal black
Battery
| | |
| --- | --- |
| Battery | 36V/6.0Ah lithium battery |
| Charger voltage |  42V/1.5A |
| Charging port |  DC 2.1 |
| Charging time | 4.5-5 hours on a full charge |
Tyres
| | |
| --- | --- |
| Tyre size |  8.5*2.0 inch |
| Tyre properties | Resistant honeycomb wheel |
Displays
| | |
| --- | --- |
| Properties |  LCD Display screens |
| Function | Power switch / battery indicator / mileage display / speed display  |
Start-up method
Cruise control mode
| | |
| --- | --- |
| Cruise control | 6km/h, 15km/h, 25km/h, three gears in cruise control mode |
Performance
| | |
| --- | --- |
| Motor |  250W |
| Max Speed |  25km/h |
| Electric power range |  6.0Ah 24-26km |
| Max load |  120kg/264lb |
| Climbing |  15° |
| Waterproof rating |  IPX4 |
Safety features
| | |
| --- | --- |
| Braking system | Front electronic brake,Rear mechanical brake |
| Light | Front LED headlights, fender tail light |
Description
Specifications
| | |
| --- | --- |
| Product model |  Windgoo M12 |
Basic Information
Expand Size
1060*505*1150mm
Folded size
1060*505*480mm
Weight
15.8kg/34.83

lb

Color
charcoal black
Battery
| | |
| --- | --- |
| Battery | 36V/6.0Ah lithium battery |
| Charger voltage |  42V/1.5A |
| Charging port |  DC 2.1 |
| Charging time | 4.5-5 hours on a full charge |
Tyres
| | |
| --- | --- |
| Tyre size |  8.5*2.0 inch |
| Tyre properties | Resistant honeycomb wheel |
Displays
| | |
| --- | --- |
| Properties |  LCD Display screens |
| Function | Power switch / battery indicator / mileage display / speed display  |
Start-up method
Cruise control mode
| | |
| --- | --- |
| Cruise control | 6km/h, 15km/h, 25km/h, three gears in cruise control mode |
Performance
| | |
| --- | --- |
| Motor |  250W |
| Max Speed |  25km/h |
| Electric power range |  6.0Ah 24-26km |
| Max load |  120kg/264lb |
| Climbing |  15° |
| Waterproof rating |  IPX4 |
Safety features
| | |
| --- | --- |
| Braking system | Front electronic brake,Rear mechanical brake |
| Light | Front LED headlights, fender tail light |
Designed for Commuting
Comfortable ride
M12 e-scooter use the air-filled tires and dual suspension to absorb shock. No matter whether you are on a rough road, or need to ride up hills (<15°), you can have a good commute trip on the M12 ride at ease.
Three Speed Switch
Easy-riding
If you're a beginner rider, you can start the M12 at 6km/h. Due to the government policy, 15km/h and 25km/h is enough for city-road riding. Cruise mode is supportable as well. You can always easily check the riding range, speed, battery on its LED screen.
Built for a Safe Ride
Dual Brake System
M12 e-scooter carries a front electronic brake plus a rear-disk brake system that assures a smooth, fast stop. The electronic brake triggers the brake cuts power from the motor, then applies the brake to the rear wheel. With the front LED light and taillight, riders can ride safely at night.
Windgoo M12 Size Guide
Windgoo M12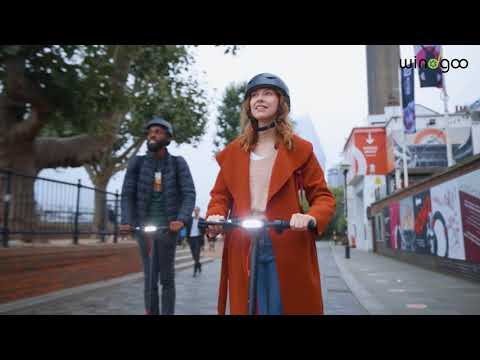 Great bit of kit (But)
This is a great Scooter but on my first ride up the road the front wheel sounded like a rattle so after taking the front wheel caps off i found the front wheel nuts hadn't been done up and where both about 8mm away from where they should be. Soon rectified but check this if you buy one. Overall i'm very happy with it. Having the option of mph instead of kph would have been better for me but in general it's a good purchase.
Stopped working and can't get hold of anyone
Brought this scooter in March for my son for his birthday, 2 weeks ago it stopped working. The back wheel has just ceased up and now it doesn't work. Tried messaging the company and have no responce.
Such a shame as it was a nice scooter, customer service needs revamping. Leaving people without a responce and then whats the point of having a chat with us service if it doesn't work either.
Unhappy customer and dissapointed son.
Good until stop working
I have had the scooter since Christmas my son has taken great care of it but it has stop working the buttons on the control panel cave into the scooter and it rattles it isn't the best for hills but it's breaks are amazing it's good on almost every terrine I has been trying to send it back for cash back or a swap or replacement but they haven't got back yet
Excellent budget electric scooter
Great value for money & great customer service